Wooden Cases
Each flag and display case Topnotch Woodworks creates is crafted from select North American hardwoods. Every case is sanded to a smooth finish and hand-rubbed with two coats of Tung Oil for a beautiful satin finish. We use double-strength acrylic glass and ¼" wooden backer boards in our display cases and flag cases. Each backer board is available in blue, black, green, red, or the USCG racing stripe. Our cases come in a wide variety of sizes, designs, and woods. We can send you an empty case if you wish to place your memorabilia yourself, or mount your flag and other materials for you.
Memorabilia Mounting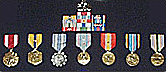 Our memorabilia mounting service is top-notch! We have designed thousands of display cases over the years and have a vast knowledge of medals, ribbons, etc. We can work with our customers via email or phone to set up designs.
First, we will design the preliminary layout and send you a digital photo. You will review the layout and either approve it or decide that changes are necessary. After receiving your direction, we will alter the design then send another photo for final approval. Once the final layout is approved we will start the permanent mounting process.
We believe your memorabilia is hard-earned and should be properly displayed for future generations. So we take care to ensure that your medals, ribbons, devices, and rank are in the proper precedence and that each item is securely fastened to the backer board -- and just as importantly, that it's free of fingerprints and dust before the case is sealed.
Please check out our shop to see some of the cases that Topnotch Woodworks has designed.
Flag Mounting
We take pride in our flag mounting service. You can either purchase a flag from us or send us your own flag, and we'll mount it in the case for you. We'll make sure your flag is centered, straight, and dust-free before we seal your case.
Engraving Services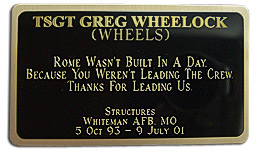 Engraved plates add a personal touch to any case.  They provide key information as the case is viewed and passed down to future generations. We recommend you include your rank, name, unit, and service dates. A brief quote, verse, or statement about the individual also serves to personalize the presentation.
Our plates are sold by the square inch; we do not charge per letter or per line like other shops do.
Custom Plates:
We can provide engraved plates and custom-cut plates to your size requirements up to 8" x 12". Please call for additional information.